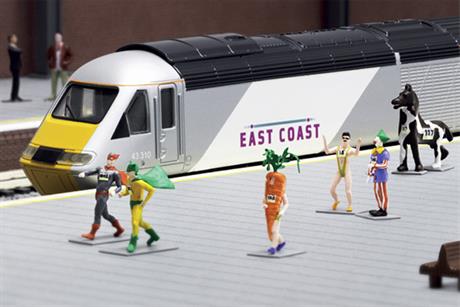 If you're looking at that title and thinking 'this is going to be an unfocused schlep that will ultimately result in disappointment', then you're not far wrong. Please read on.
Unfocused schlep however was not a suitable metaphor for the meal itself, which was more solid than you'd expect.
The meal took place on an East Coast Train between London and Leeds, and involved three component parts: an egg and cress sandwich, a packet of Tyrell's Sea Salted Furrows, and a Highland Spring sparkling water.
On the latter, I firmly believe that all liquids purchased on transport methods should be sparkling. There could probably be a whole other blog on that, but I'll give you that throw-away for free. All you need to know is the drink fulfilled its function of containing bubbles while being transported alongside the oesophagus doing the liquid-swallowing very soundly.
The salted snacks, too, were more than adequate, although falling very much victim to what should be termed 'The Kettle Chips/ Sunbites Problem' ("we've ploughed everything we've got into them" – Tyrells). Oh have you now, you dirty farm-faced fuckers.
The sandwich, within its resoundingly mediocre flavour genre, was extremely decent – hugely exceeding Morrisons' work in this area, for example. It balanced softness and crunch with a borderline-connoisseur's attention, and actually tasted of something. But then came the shocker – a shocker that has been more than signposted in the title.
The title gives due prominence to the fact that the key noticeable factor in this meal was not the fact it was consumed on a train, but the astounding amount of e-numbers contained within the sandwich. Get this……NINE! Emulsifiers are a major culprit, but the 'egg mayonnaise mix' chips in with a dumbfounding four of them.
Clearly life on the East Coast Mainline is so hard that the average egg mayonnaise mix just can't make it through alone. Field after field of rape – it must be hard to do it without heavy emulsifiers. Nonetheless, discovering this artificial enhancement after the initial enjoyment was a very similar feeling to learning that Dwayne Chambers was a drug cheat. Oh, Dwayne. Oh, train egg and cress sandwich. Oh, for god's sake will you end this blog now.
SANDWICH: 8/10
POINTS DEDUCTED FOR ARTIFICIAL ENHANCEMENT: 3
SANDWICH (REVISED): 5/10
CRISPS: 8/10
SPARKLING WATER: 7/10
TRAIN AMBIENCE: 7/10
AGGREGATE MEAL SCORE: 6.75/10